Bacon & Egg Breakfast Taquitos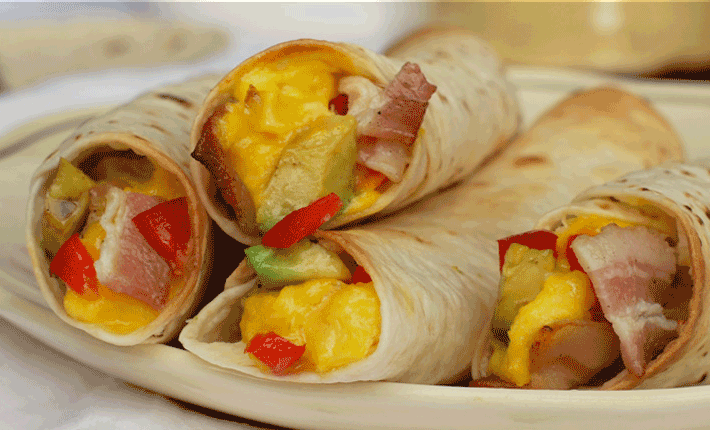 Bacon & Egg Breakfast Taquitos
These breakfast taquitos will keep you on the straight and narrow of tasty, healthy, protein-packed breakfasts to sustain you all morning. Soft creamy scrambled eggs & avocado bed nuggets of crispy tasty bacon and sweet red capsicum inside a crispy tortilla case.
Salty, creamy, crunchy & sweet – yum!
Make these ahead of time & freeze so you have them handy whenever you need them for entertaining, a quick snack or protein-packed breakfast. When defrosted, reheat in hot oven (200C) or microwave for a few minutes. Please note the microwave will soften the tortilla casings but it won't lose any flavour or goodness.
INGREDIENTS
4 eggs
2 tablespoons milk
25gm butter
salt & pepper if you like (you can add less salt than usual as the bacon will add saltiness)
6 rashers bacon, fried or baked in a little olive oil to your preferred level of crispiness and cut up roughly with scissors
1 avocado, cut into small cubes
1 red capsicum, cut into small cubes
fresh parsley, a handful roughly chopped
olive oil spray
1 pack of Go No Gluten Wraps Large (for wheat-free, gluten-free option)
or
1 pack of Go Low Carb Wraps  (for low-carb option)
DIRECTIONS
Makes 6 taquitos (six servings)
Prep time:  20 mins
Cooking time: 10 mins
Creamy scrambled eggs
Put small saucepan on low to medium heat and melt butter until liquid. Butter should bubble a little but not burn or brown.
Whisk eggs, milk and seasoning together in small bowl and add to saucepan when butter melts.
Stir gently by continually scraping the mixture away from the pot's bottom. A heat-proof spatula is perfect for this and saves you a big cleaning-up job at the end.
When the mixture is almost set (it will have streaks of white & look soft yellow with no runny bits) remove it from heat but keep scraping the mixture from the bottom. The egg will keep cooking in the heat. Leave in the saucepan to begin assembling your taquitos.
Making the taquitos
Pre heat oven to 200 C.
Brush a Go No Gluten Wrap with a little water and heat in your sandwich press until soft and floppy (about 7 secs). Go Low Carb Wraps don't need heating first as they will be soft enough to roll straight from the pack.
While still hot, lay the Go No Gluten wrap flat and lay a generous strip of scrambled egg down the middle of the wrap from one end to the other about 5cm thick. Lay slightly less mixture at both ends so they don't spill out when cooked. Do the same if you are using Go Low Carb Wrap.
Lay bacon, avocado and red capsicum bits over the top of the egg and finish with a sprinkling of chopped parsley.
Roll the tortilla to encase the egg filling snugly, into a long round tube. If using a Go No Gluten Wrap, do this while it is still warm and bendy.
Lay the taquitos seam side down on a lightly greased baking tray (olive oil spray is quick and easy for this).
When you have assembled all the taquitos, bake in oven for around 10 minutes or until hard and a little toasted but not burnt.
Eat up!
https://www.gerrys.co.nz/wp-content/uploads/2014/10/Bacon-And-Egg-Breakfast-Taquitos-1197x430.jpg
430
1197
Glen Ford
https://www.gerrys.co.nz/wp-content/uploads/2022/07/gerrys-wrap-logo_2022.png
Glen Ford
2016-05-02 10:31:25
2019-11-14 01:08:17
Bacon & Egg Breakfast Taquitos