Lemon chicken, lime and ginger rolls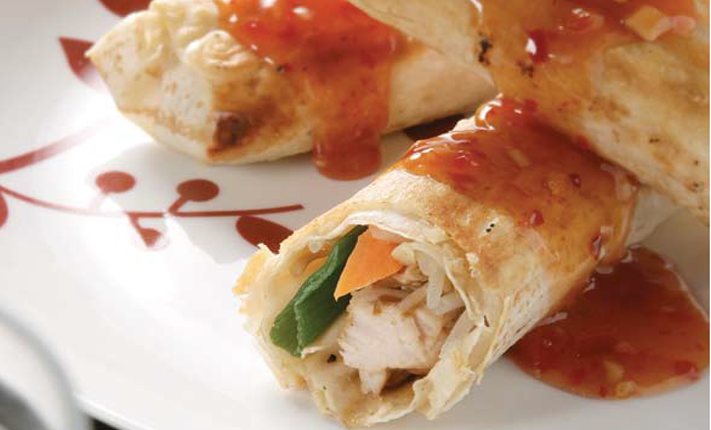 Lemon Chicken Lime And Ginger Rolls
These lemon chicken rolls with lime and ginger are succulent, fragrant and fresh and a healthy way to enjoy chicken with veggies.
Prep Time: 15 minutes
Cook time: 25 minutes
INGREDIENTS
Marinade
1 medium lemon, juice and zest
1 medium lime, juice and zest
1 clove garlic, crushed
2 tsp ginger, grated
½ stalk lemon grass, crushed
1 tbsp light soy sauce
1 tsp sugar
50 gm bean shoots
1 small carrot, cut to match stick size
2 spring onion, finely sliced lengthways
2 chicken thighs
2 tsp ginger, grated
8 large mint leaves, split in ½
8 sheets of Mountain Bread™
½ cup vegetable oil
DIRECTIONS
Combine all marinade ingredients together and cover the chicken. Marinate for 2 hours minimum, then slice the chicken into very thin strips and set aside.
Lay out the Mountain Bread™ and on one edge, spread some bean shoots, then top with carrot, then spring onion, then two mint halves and finish with 2 chicken strips. Brush the edges with a little
water and tightly roll, ensuring the ends are folded as well.
Heat the oil in a pan and slowly shallow fry on a low to medium heat until chicken is cooked. Turn frequently to ensure the bread doesn't burn.
Serve on a plate with sweet chilli sauce.
https://www.gerrys.co.nz/wp-content/uploads/2016/02/Lemon-lime-and-ginger-chicken-rolls.png
430
711
Glen Ford
https://www.gerrys.co.nz/wp-content/uploads/2022/07/gerrys-wrap-logo_2022.png
Glen Ford
2016-02-25 04:39:11
2019-11-14 01:10:55
Lemon chicken, lime and ginger rolls