Description
keto pure wrap
The Keto Pure Wrap is the newest in Gerry's Wraps' range, and is gluten free, low carb, AND keto. This makes it perfect for keto dieters, coeliacs, diabetics and anyone eating low carb and/or gluten free.
With just 8g carbs and made with grain-free, keto ingredients, the Keto Pure Wrap is a true keto product!
The Pure Wrap is one of New Zealand's lowest-carb wraps, as are our  Go Low Carb Wrap  and new Super  Low Carb Spinach Wrap which have respectively just 11.4g and 11.2g carbs per serving.
Also gOOD TO KNOW
Non-GMO Project verified
USDA Organic
Vegan
Keto
Paleo, low carb, low sugar, low calorie, and raw
Eat on the run – no heating required
Biodegradable and compostable packaging
Made in Philippines by overseas supplier, Improveat
Serving Suggestions
Keto Pure Wraps are great for school lunches, work and travel because they can be eaten straight from the pack.
Use like a tortilla right out of the package without thawing, warming, steaming or adding water. Just fill, roll, and enjoy! You can make a burrito, sushi, appetizer, snack or dessert. The Pure Wraps hold warm and cold food very well.
They are best eaten if you make them with your choice of filling just before eating. Keto Pure Wrap wraps like a tortilla, or regular wrap, but if they are filled too early and/or refrigerated with their fillings for 2 or more hours, they will absorb that moisture and can become soggy.
Use keto pure Wrap for your keto diet by substituting:
Bread
Pastry
Pasta
Crepes
ALLERGEN INFORMATION
gluten free
corn free
dairy free
tree nut free (NB: Coconut is seed from a palm, not a tree)
soy free
vegan
no other major food allergens
STORAGE
The Keto Pure Wrap should be stored at near room temperature and away from dry circulating air. Refrigeration after opening is not required, and we recommend that you never freeze them as freezing degrades their nutrition and they can crack while frozen. Coconuts don't come from frozen environments, so they don't have much experience being frozen in the wild! The estimated BEST-BY-DATE is 12 months after manufacture.
INGREDIENTS
Simply two (2) ingredients. It is 99%+ Coconut* (coconut "meat" and young coconut water), and Himalayan salt, dehydrated to make a strong, flexible, and tasty wrap with a soft mouth feel.
NUTRITIONAL INFORMATION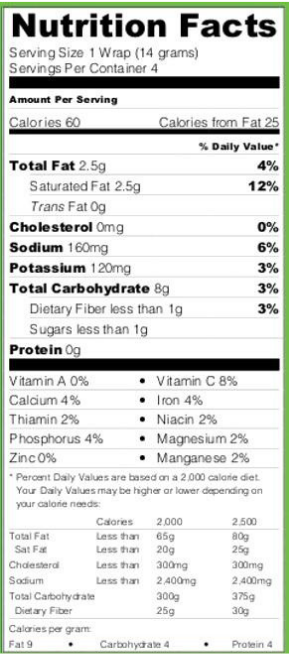 PRODUCT INFORMATION
Pack of 4 wraps.
Non-GMO cellulose packaging with a piece of non-bleached parchment paper in between the wraps. The cellulose packaging does not contain BPA, BPS, or over 16 derivatives of Bisphenol. Additionally, there are no phthalates or other endocrine disruptors.
Made in Philipines.
Distributed by Ready To Roll Foods Limited, New Zealand.