Description
GO LOW CARB WRAP
Keto-friendly and tasty .
Great as a thin crispy pizza base with your favorite toppings
Bulging with taste but with less naughty carbs. All without any artificial colour or flavouring – just like a homemade one.
Keto-friendly –

only 11.4g per wrap

Low GI

High Fibre

Low Sugar

No Artificial Colours or Flavour
Eat straight from the packet – does not need heating.
Use Go Low Carb Wrap for substituting:
Bread

Pastry

Pasta

Flour based pizza bases
Easy-to-make Mexican (and just about anything else):
Tenderly oozing cheese toasties

Pre-made pizzas & Quick quesadillas

enriching enchiladas & burly burritos

Terrific tacos & Tasty tortilla chips

Chewy chimichangas & Tantalising tostadas

Cannelloni, Wontons, Noodles & Soup (really!)
HEATING INSTRUCTIONS
Heating recommended before use
Stove Top: Panfry both sides in a little vegetable oil (optional) for 15-30 seconds
Sandwich Press: Spray oil (optional) on flat sandwich press and close down for 5 seconds until steam escapes
Microwave: Cover or wrap in a damp paper towel and microwave for approx. 10 seconds on high (800 watts)
NB: Occasionally our wraps may stick together. This is because they are made and packed for freshness. Simply separate them by bending the packet back and forth prior to opening. Once wraps are heated keep them warm in a covered container.
STORAGE
Store in a cool, dry place. Once opened store remaining wraps in an airtight container or resealable bag and refrigerate for up to 3 days. 
INGREDIENTS
Filtered Water, Modified Wheat Starch (1412), Wheat Flour (Folic Acid, Thiamin), Canola Oil, Wheat Gluten, Sugar, Vegetable Gum (412) Iodised Sea Salt, Humectant (422), Raising Agents (450,500), Acidity Regulator (297), Preservatives (281, 202), Emulsifier (471), Enzyme. 
Contains Gluten from Wheat.
NUTRITIONAL INFORMATION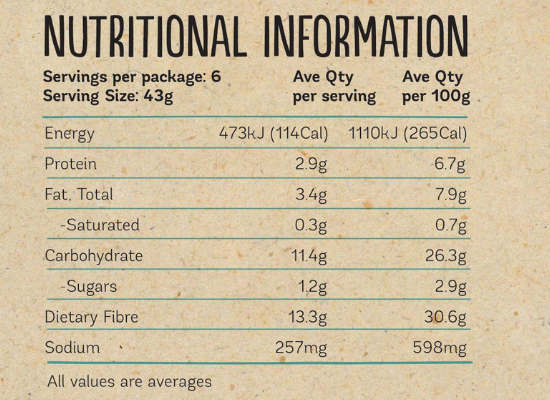 PRODUCT INFORMATION
258gm. Pack of 6 pieces. 
Made in Australia.
Distributed by Ready To Roll Foods Limited, New Zealand.