Description
SERVING SUGGESTIONS
Mountain Bread – the delicious paper-thin bread. This traditional bread made with Spelt flour has been widely eaten in other parts of the world for thousands of years.
Its thin, dry soft texture is not doughy like other breads and is highly popular with those interested in their health, as well as with children, encouraging them to chew properly.
An old traditional bread with many delicious ways of serving:
Roll it up with your favourite filling or use it with all your meal dishes.
Mountain Bread is used for all kinds of sandwiches, souvlaki and as a lasagna base.
Wrap up your BBQ or roast chicken to keep it warm.
Use with dips or any kind of cooking.
Delicious as baked crispy sandwiches.
Try it baked and crumbled with milk as a cereal or on top of soup.
ALLERGEN INFORMATION
Contains Gluten
Manufactured on equipment that also processes products containing wheat.
No Dairy Products
Cholesterol Free
No Sour Dough
98% Fat Free
Yeast Free
No Eggs
STORAGE
After opening, consume within 5 days at room temperature or 15 days if refrigerated. Freeze for up to 12 months. Store in a cool dry place.
INGREDIENTS
Spelt Flour, Filtered Water and Iodised Salt.
NUTRITIONAL INFORMATION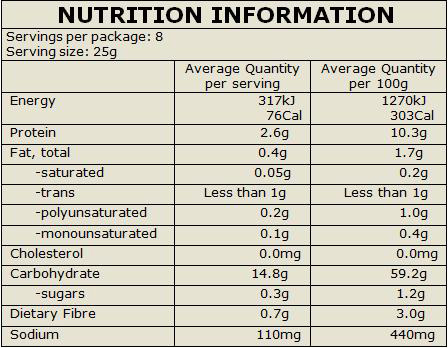 PRODUCT INFORMATION
200gm. Contains 8 pieces. Certified Kosher.
Made in Australia.
Distributed by Ready To Roll Foods Limited, New Zealand.