Description
LOW CARB high protein bread
Gerry's Low Carb Bread is crammed with healthy ingredients like Hemp Seeds, Sunflower Kernels, Linseeds and Lupin – a wonder food uniquely high in protein and dietary fibre.
A good source of protein and a low-GI food, lupin sustains energy levels for longer without spiking blood sugar which may suit diabetics.
With 80% less carbs than white bread* and no added sugar or oil, Gerry's Low Carb Bread may be suitable for a ketogenic diet.  
Keto-friendly –

only 2.2g net carbs per slice

High in Protein

High in Fibre

Vegan

Dairy Free

5 Star Health Rating
DELIVERY & STORAGE
Our breads are shipped on the day of bake and we gas-flush and vacuum seal the packaging to ensure your bread arrives in optimum condition. All our breads are shipped in custom sized boxes to keep the breads snug and minimize movement in the box during delivery.
Our breads have a 18 day shelf life from the day of bake, we recommend that once opened, keep the product refrigerated or freeze. Suitable for freezing up to 12 months. 
INGREDIENTS
Water, Seeds (linseeds, sunflower seeds, hemp seeds), Wheat Gluten, Lupin Flour, Soy Flour, Wheat Bran, Yeast, Iodised Salt, Vinegar, Dark Roasted Malt Flour, Acidity Regulator (262).
Allergens: Gluten, Soy, Lupin.
NUTRITIONAL INFORMATION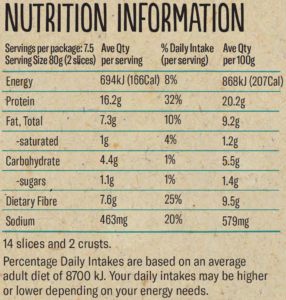 PRODUCT INFORMATION
600gm. 14 slices and 2 crusts.
Handcrafted in New Zealand from local and imported ingredients.
Hand-packed and distributed by Gerry's Bakery Limited, New Zealand.

*Gerry's Low Carb Bread (4.4g carbs/80g serve) has 88% less carbohydrates per serve than 'Essentials Sliced White Bread' (37.4g carbs/80g serve).