Description
INGREDIENTS
Corn Flour (70%), Wheat Flour, Filtered Water, Iodised Salt, (Wheat Flour contains Folate and Thiamin).
NUTRITIONAL INFORMATION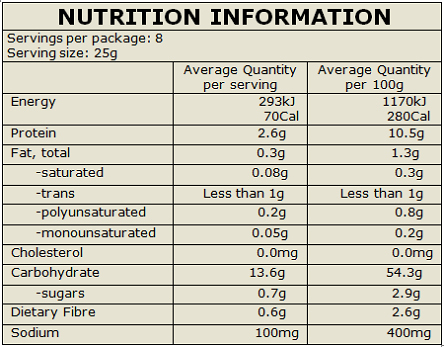 ALLERGEN INFORMATION
Contains Wheat & Gluten
No Dairy Products
Cholesterol Free
No Sour Dough
98% Fat Free
Yeast Free
No Eggs
STORAGE
After opening, consume within 5 days at room temperature or 15 days if refrigerated. Freeze for up to 12 months. Store in a cool dry place.
PRODUCT INFORMATION
200gm. Contains 8 pieces. Certified Kosher. 70 calories per piece.
Made in Australia
Distributed by Ready To Roll Foods Limited, New Zealand