Description

SOURDOUGH WRAP
A very smooth and mildly tangy sourdough flavoured wrap that is sure to delight your senses from first bite to last.
Our Sourdough wraps are baked with care and made with the best quality ingredients to ensure they are full of traditional Sourdough flavours.
Also Good To Know
Low Sugar
Low Saturated Fat
Vegan
Yeast Free
★★★ Health Star Rating
Contains Gluten from Wheat
Heating Methods
For best results, please flex all packets back and forth to loosen tortilla before opening and heat to soften before use.
Microwave:
Cover or wrap in a damp paper towel and microwave on high for approx. 10 seconds on high (800 watts)
Stove Top:
Pan fry both sides in a little vegetable oil (optional) for 15-30 seconds
Sandwich Press:
Spray oil (optional) on a flat sandwich press and close down for -5 seconds until steam escapes
Tips:
After heating keep warm by stacking together and wrapping in a clean tea towel and covered dish until ready to wrap. Wrap filled wraps in cling wrap to maintain freshness for those daily lunches.
STORAGE
Store in a cool, dry place. Once opened, store remaining wraps in an airtight container or resealable bag and refrigerate for up to 3 days. May be frozen for up to 6 months.
INGREDIENTS
Wheat Flour (Contains Vitamins Folic Acid, Thiamin), Filtered Water, Vegetable Oil, Wheaten Sourdough Culture (3%), Humectant (422), Wheat Gluten, Emulsifier (471), Iodised Sea Salt, Raising Agents (450, 500), Sugar, Acidity Regulator (297), Vegetable Gums (415, 412), Preservatives (281, 200).
Contains Gluten from Wheat
NUTRITIONAL INFORMATION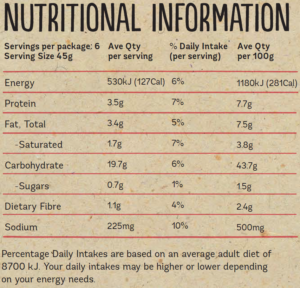 PRODUCT INFORMATION
270gm. Pack of 6 pieces.
Made in Australia
Distributed by Ready To Roll Foods Limited, New Zealand